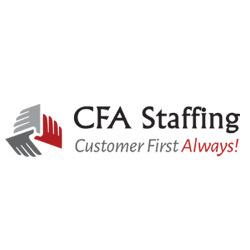 Quality Inspector
Jamestown, IN
CFA Staffing is now hiring Quality Inspectors.

As a Quality Inspector you will:
• Examine manufactured products (primarily automotive parts) to ensure they meet all standards of presentation and quality.
• Act as an impartial third party between the production source and the customer facility to ensure the product meets set criteria.
• Study product specifications and work instructions.
• Perform visual, mechanical, and functional verification of parts to ensure compliance to set specification and quality standards.
• Make independent judgments for subjective calls.
• Collect and record accurate data regarding defects.
• Tag and isolate defective material.
• Provide description or justification for defective material.
• Comply with relevant local health and safety legislation.
• Support company health and safety policies.
• Communicate results to managers, supervisors, and production source.
• High school diploma or GED is not required if you have work experience.
• Demonstrated flexibility within a fast-paced, challenging environment.
• Must have steel or composite toed shoes.
• Background check is required.

• Excellent written and verbal communication skills.
• Ability to coordinate, prioritize, and multitask.
• Ability to take initiative and recognize needs.
• Ability to handle highly sensitive and confidential material.

• 1st and 2nd shifts are available.
• 12-hour shifts: 5am-5pm and 5pm-5am.

We are an Equal Opportunity Employer.
13623